Packaging Supplies for Vancouver Residents
SELF STORAGE AND PACKAGING SUPPLIES IN VANCOUVER, BC
We Will Not Only Store Your Goods But Also Endeavor to Keep Them Safe and Secure.
Whether you are downsizing, renovating your home, or want to expand your office space, self-storage services and storage lockers in Vancouver are great storage solutions. Not only can you store your goods in a safe location, but you can also be assured that they stay in good condition. However, we do recommend to keep your items safe, secure, and free from dust and damage for a long time, you need to pack them in the right way with high-quality material.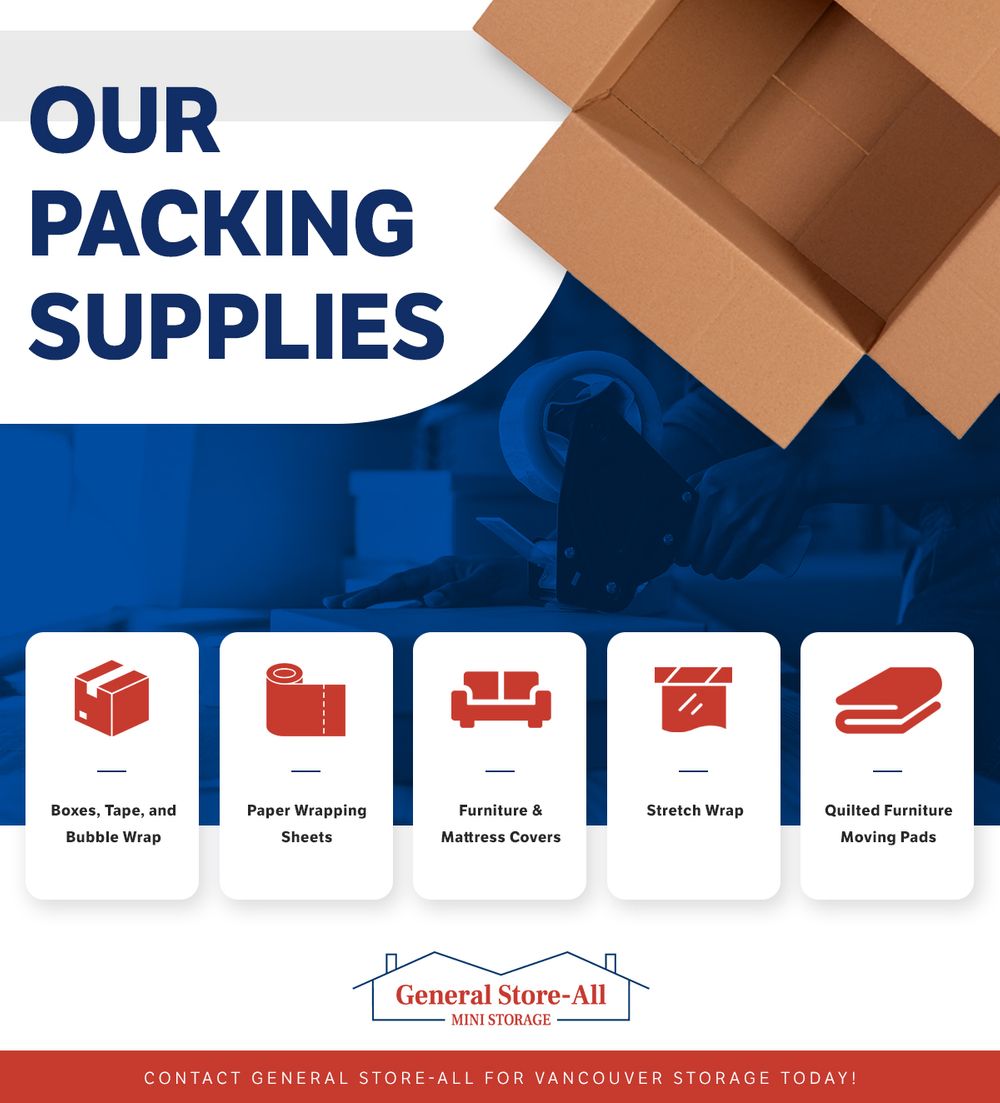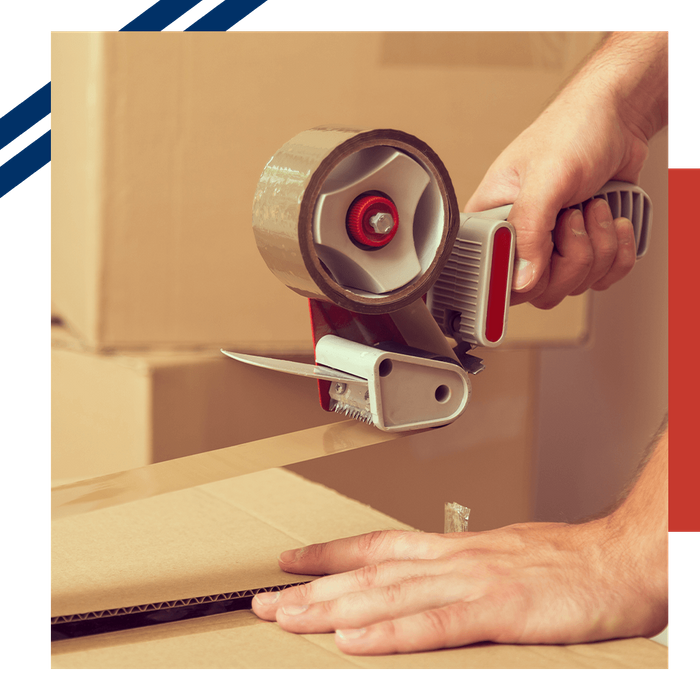 HIGH-QUALITY SELF STORAGE AND PACKING SUPPLIES
Get in touch with us today for quality packing supplies for all kinds and sizes of household goods, furniture, and office equipment. We sell several sizes of boxes, packing paper, bubble wrap, mattress bags and more.
Our packing supplies are available for all types of goods, be they commercial or residential. We sell only high quality packing material and supplies so that your goods stay safe, secure, and in good condition for longer periods.
Outstanding service
Affordable rates
Quality packaging material
Easy and convenient access
Reliable and secure storage facility
Temperature-controlled storage environment
Quality packing supplies at General Store-All Mini Storage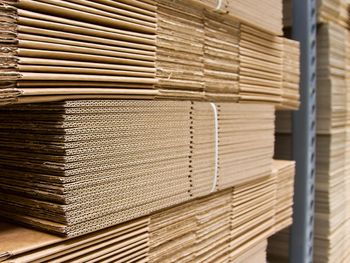 Our Packing Supplies Include:
Quality Boxes for Home and Office Use
We provide quality packing supplies for your residential goods at the most affordable rates on the market. We have a variety of box sizes available for all kinds of goods, from small storage boxes to spacious china boxes and wardrobe boxes. The versatile sizes make it easy for you to select the right boxes that are affordable and cost-effective.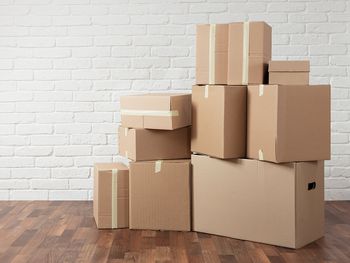 Take a look at our available sizes:
1 Cubic Foot Box – 12.25 x 12.25 x 12 5 Cubic Foot Box – 18 x 18 x 26.5
1.5 Cubic Footer Box – 16.25 x 12.25 x 12.5 6 Cubic Foot Box – 20 x 20 x 26
2 Cubic Foot Box – 18 x 15.25 x 12.25 Wardrobe Box – 24 x 20 x 46
3 Cubic Foot Box – 18 x 18 x 16 File Box – 11 x 15 x 10
4 Cubic Foot Box – 18.25 x 18.25 x 20.5 China box – 18 x 18 x 28
*All measurements in inches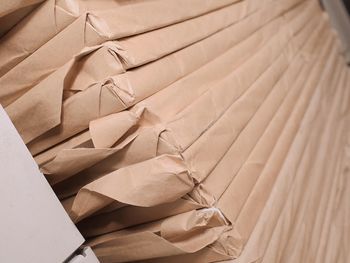 Paper Wrapping Sheets for Boxes of all Sizes
Paper wrap your goods before you store them to keep them safe from dust and damage. We have paper wrapping sheets available for all sizes of boxes.
Clean white newsprint paper
10 x 24" sheets for a 10 lb. box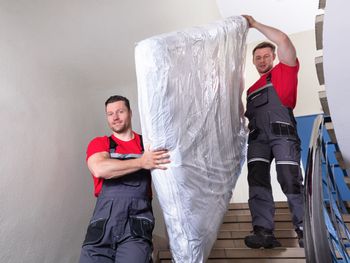 Covers for Furniture and Mattresses
Before you store your mattresses, sofas, or carpets at our self storage facility in Vancouver, cover them with durable plastic covers to keep them free of dust, wear and tear.
Plastic mattress covers for different bed sizes (Double, King, Queen)
Covers and bags for sofas, chairs, and other furniture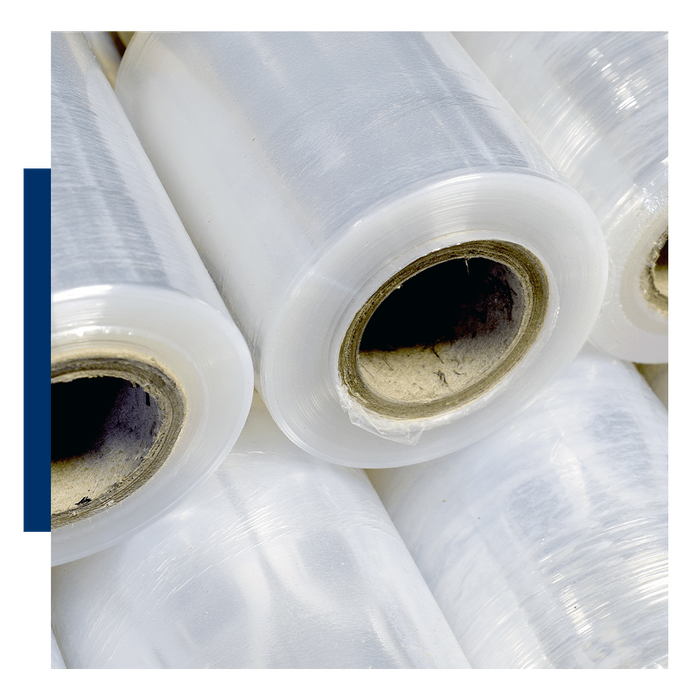 Stretch Wrap
Stretch wrapping is ideal to keep your goods safe for a long time.
Zip wrap c/w handle
Size Available: 13" x 1500'
Tape and Bubble Wrap
We sell bubble wrap to keep your goods protected from damage.
Bubble wrap size available: 12" x 30'
Tan or clear tape
Tape gun set (With dispenser and two rolls of tape)
Other Miscellaneous Packing Materials
Quilted furniture moving pads – 60" x 72"
BENEFITS OF OUR PACKAGING SUPPLIES

Protection
General Store-All's packaging supplies, such as sturdy moving boxes and bubble wrap, provide excellent protection for your items. The durable boxes offer reliable support and structural integrity, safeguarding your belongings from impacts, crushing, and shifting during transit and while in storage. Bubble wrap adds an extra layer of cushioning, protecting fragile items from scratches, breakage, and other damages.

Organization
Our packaging supplies help you stay organized during the packing and storage process. With various box sizes available, you can easily categorize and pack your items based on their size and type. Additionally, labeling supplies such as markers and stickers allow you to clearly identify the contents of each box, making it easier to locate specific items when needed.

Convenience
By offering a comprehensive range of packaging supplies, General Store-All eliminates the need for you to search for items at multiple stores. Everything you need, from boxes to tape to packing peanuts, is conveniently available at one location. This saves you time and effort, ensuring a smooth and efficient packing process.

Peace of Mind
Using high-quality packaging supplies from our Vancouver storage facility gives you peace of mind knowing that your items are securely packed and protected. You can trust that your belongings will remain in excellent condition while in storage, reducing worries about potential damage during transportation or while being stored long-term.

Expert Advice
General Store-All's knowledgeable staff can provide expert advice on the best packaging supplies for your specific storage needs. They can help you choose the right box sizes, recommend appropriate protective materials, and provide guidance on how to properly pack and secure your items.
Contact Us Now
Choosing our packaging supplies for your storage needs ensures that you have access to reliable and high-quality materials that offer maximum protection, organization, and convenience. With our expertise and comprehensive range of supplies, General Store-All makes the packing and storage process easier, allowing you to confidently store your belongings with peace of mind. Learn more today.